LAMBUTH UNIVERSITY ALUMNI
JACKSON, TENNESSEE
Classes of 1923 - 2012
In Memory
Thomas Eric Prather - Class Of 1988
February 17, 1966 ~ November 22, 2013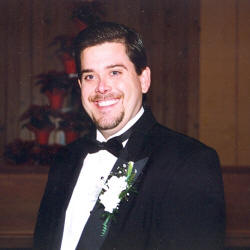 A memorial service for Thomas Eric Prather, age 47 of Dickson will be held on Friday, November 22, 2013 at 1:30pm at the Signature Health Care in Erin, TN.
Eric was born February 17, 1966 in Union City, TN. He received a Bachelor degree from Lambuth University in Jackson, TN where he was a member of the Kappa Alpha fraternity. He worked as a food service manager for Signature Health Care. Eric was a Volunteer Fireman for the Sylvia Yellow Creek Fire Hall. He died at his home on November 16, 2013.
Mr. Prather is survived by his Loving Wife of almost 16 years, Karen Alexander Prather of Dickson; Mother, Dorothy Cox Knight & her Husband Kenneth, of Paducah, KY; Father, Kenneth Thomas Prather of Smithland, KY; Son, Trey Thomas Prather of Dickson; Stepson, Ethan Alexander Monahan of Madison, TN; Brother, John Patrick Prather of Paducah, KY; Nieces and Nephews, Holden and Kimberly Alexander, Katie and Caleb Turbeville.